Il Jova Beach Party è il tour di Jovanotti – al secolo Lorenzo Cherubini – che quest'estate farà tappa nelle più belle spiagge italiane e in tanti altri luoghi, accuratamente selezionati dal cantante. Per questa serie di concerti-party estivi, Jovanotti ha annunciato – via social – la bellezza di 61 ospiti provenienti da 23 Paesi diversi.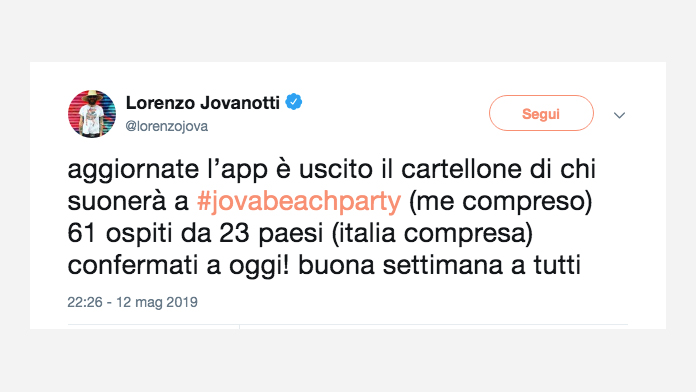 Dai Boomdabash; Enzo Avitabile a Ballo, lo storico bassista di Cesare Cremonini. Dagli Ex–Otago a Takagi & Ketra con cui Jovanotti ha collaborato per la canzone La luna e la gatta. Presente anche la scena rap italiana con Rocco Hunt, Mr. Rain, Rkomi e Charlie Charles.
Per avere informazioni, conoscere le tappe e scoprire tutte le sorprese che Lorenzo ha in serbo per i suoi fan, scaricate l'app: Jova Beach App.
Ecco i guest che dal 6 luglio si esibiranno nei Jova Beach Party
ACIDO PANTERA
ACKEEJUICE ROCKERS
AFROTRONIX
ALBERT MARZINOTTO
ALBOROSIE
ANTIBALAS
BALLO
BALOJI
BANTOU MENTALE
BENNY BENASSI
BOMBINO
BOOMDABASH
CANZONIERE GRECANICO SALENTINO
CHARLIE CHARLES
CLUB PARADISO
DANIELE BALDELLI
DEEJAY MAZZZ
DEVON AND JAH BROTHERS
DUO BUCOLICO
ENZO AVITABILE & I BOTTARI DI PORTICO
EX-OTAGO
FATOUMATA DIAWARA
FORELOCK & ARAWAK
GATO PRETO
GIORGIO POI
I HATE MY VILLAGE
ISTITUTO ITALIANO DI CUMBIA
IVREATRONIC
J.P. BIMENI & THE BLACK BELTS
JUPITER & OKWESS
LOS WEMBLER'S DE IQUITOS
MAGICABOOLA BRASS BAND
MANGABOO
MELLOW MOOD
MERK & KREMONT
MR RAIN
NU GUINEA
NIKODEMUS
ORCHESTRA GRANDE EVENTO
ORKESTA MENDOZA
PAOLO BALDINI
PINGUINI TATTICI NUCLEARI
RALF
RANCORE
RIVA STARR
RKOMI
ROCCO HUNT
RUMATERA
SANGENNARO BAR
SAVANA FUNK
SELTON
SHANTEL
47 SOUL
SUD SOUND SYSTEM
TAKAGI & KETRA
TARANTOLATI DI TRICARICO
THE DI MAGGIO CONNECTION
THE LIBERATION PROJECT
TRE ALLEGRI RAGAZZI MORTI
TONY ALLEN
VOODO SOUND CLUB
Ti è piaciuto questo articolo?